EASTER CELEBRATIONS 2017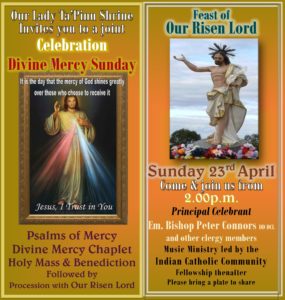 Our Lady Ta'Pinu Shrine
Invites you to a joint Eucharistic Celebration

Divine
Mercy
Sunday
AND
Feast of Our Risen Lord
This is the day when the Mercy of God Shines upon those who chose to receive it… We invite you to be one of those to come a stay a while with HIM and experence God's Love and Mercy… 

This Eucharistic Celebration which will led by His Lordship Emeritus Bishop Peter Connors will begin with the recitations of the "Psalms of Mercy" recommended by Pope Francis in 2016.

The Psalms and The Divine Mercy Chaplet will also be recited alternatlively with hymnal intercession during this time of Adoration of the Blessed Sacrament.
Confession will be available during that time as well
After the Holy Mass of Divine Mercy Sunday, The Bacchus Marsh Good Friday Assn. Inc  invite you to join in procession with the impressive Statue
of Our Risen Lord around the church.
This Eucharistic Celebration will conclude with Benediction inside the church
You are also invite to join us for some light refreshments after the ceremony.
Please bring a plate to share.
Thank You
Lenten Celebrations 2017
Good Friday 
Friday 14th April
Come and meditate along the Way of the Cross
as individuals, as a family or in groups
in your own language or join others:
Booklets available at the main church if required
From 7.00 a.m onwards
from 2.30 p.m.
 Come and Join
His Lordship Bishop Mark Edwards OMI DD PHD
and the Devotees at Ta Pinu Shrine

for the commemoration of 
Our Lord's Passion
including Veneration of the Cross
This will be followed by the traditional pageant by the Bacchus Marsh Good Friday Assn Inc.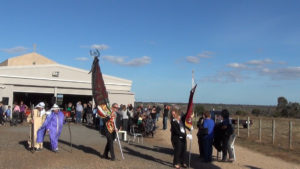 Cf. Jn 12: 1, 12-13; Ps 23: 9-10
Six days before the Passover, when the Lord came into the city of Jerusalem, the children ran to meet him;
in their hands they carried palm branches and with a loud voice cried out:
*
Hosanna in the highest!
Blessed are you, who have come in your abundant mercy!
O gates, lift high your heads; grow higher, ancient doors.
Let him enter, the king of glory! Who is this king of glory?
He, the Lord of hosts, he is the king of glory.
*

Hosanna in the highest!
Blessed are you, who have come in your abundant mercy!
 
Saturday 1st April

From 1.00 p.m
Walk with
Jesus and Mary
Along the Way of the Cross
 This will be followed by the Feast of Our Lady of Sorrows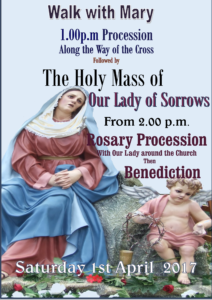 Saturday 25- Sunday 26th March
24Hrs for the Lord
Theme "I Desire Mercy"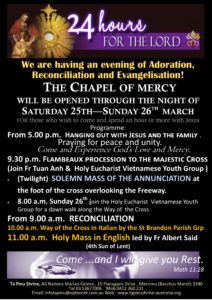 VATICAN CITY — Pope Francis invites parishes around the world to open their doors for 24 hours so that the faithful might encounter Jesus Christ anew in the sacrament of Penance and Eucharistic Adoration.
25th March is also the Solemnity of The Annunciation of Our Lord …
"Let's take this opportunity to  say YES to prayers in communion with the Church on earth and in heaven," the pope said.
"Let us not underestimate the power of so many voices united in prayer!
At Ta Pinu Shrine,
We are having an evening of Adoration,  Reconciliation and Evangelisation!
The Chapel of mercy will be opened through the night of 25-26th  March 

for those who wish to come and spend an hour or more  with Jesus present  in the Blessed Sacrament.

From 5.00 p.m. Saturday 25th :- Hanging out with Jesus and the family

. Praying for peace and unity. Come and Experience God's Love and Mercy.

"Stewards of forgiveness"video and Meditation
9.30 p.m. (Twilight) SOLEMN MASS OF THE ANNUNCIATION  mass will be celebrated AT THE FOOT OF THE MAJESTIC CROSS overlooking the Freeway.

8.00 a.m. Sunday 26th Join the Holy Eucharist Vietnamese Youth for a dawn walk along the Way of the Cross

From 9.00 a.m. Reconciliation

10.00 a.m Stations of the Cross in Italian led by St brendon Parish Community

11.00 a.m Holy Mass in English led by Fr Albert Said

From 12.00p.m Silent Adoration , Readings of the

3.00p.m Divine Mercy Chaplet followed by Praise and Worship

5.00p.m Benediction